Things that Affect the Wine Quality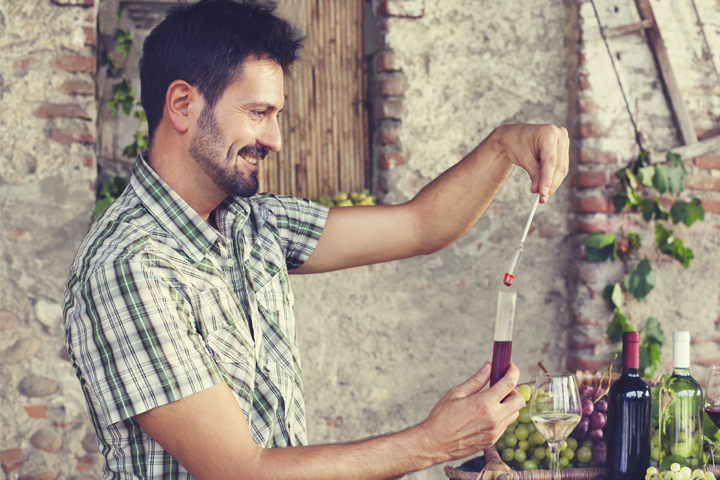 Today, we can see a trend to more healthy and environmentally friendly food. Human food habits and drink consumption are always in constant motion. Wine and alcohol is maybe not healthy as such but globally the trend has been toward less and less consumption while at the same time we look for higher quality wine.
As an example, a Frenchman drank in the 60's on average 170 liters of wine per year. Today this has been reduced to 50 liters. The trend is similar in most traditional wine countries such as Spain, Australia, Argentina, U.S.A., and Italy. This means that basic and cheap table wines have become less popular and quality wine more desirable.
Producing a quality wine is a complex process that consists of many steps and many careful considerations. There are many components that need to be determined in the final product to verify the quality.
Volatile Acids
Volatile Acid is one such component that is formed during the fermentation and that requires careful monitoring. Acid builds up in wine when there's too much exposure to oxygen during winemaking and is usually caused by acetobacter, the vinegar-making bacteria. Volatile acidity is considered a fault at higher levels and can smell sharp like nail polish remover. In some countries there are legal maximum limits on volatile acids. In the USA the legal limits are 1200 mg/kg volatile acids for white wine and 1400 mg/kg for red wine. In France the limit is lower.
But at lower levels, Volatile Acid can add fruity-smelling raspberry, passion fruit, or cherry-like flavors. Wines that have long fermentations (1 month or more), such as Amarone della Valpolicella, Ice Wine, and Barolo generally accumulate higher levels of volatile acidity.
Steam distillation with following titration is the preferred method for volatile acid determination as described by the International Organisation of Vine and Wine (OIV-MA-AS313-02). A Kjeldahl distillation unit is used for this steam distillation.
Alcohol
Alcohol is naturally something of interest for a winemaker.  The alcohol in wine gives a subtle impression of sweetness on the palate. It also brings a hint of bitterness similar to that found in tonic water as well as texture.
However, it needs to be in balance, not too much and not too little. Too little of alcohol may make the wine flat and dull, without any trace of lively touch. Too much alcoholic wine will cause too much of a sensation in the mouth, you will not taste anything else of the wine. Determination of Alcohol can also be done, using steam distillation and Kjeldahl equipment. This is described by the OIV organisation in the standard OIV-MA-AS312-01A and by the European Commission Regulation (EEC).
Sulfur Dioxide
Sulfur Dioxide (SO2) is the most common chemical compound used in winemaking. Its preservative and anti-bacterial qualities were discovered thousands of years ago, and because it is non-toxic it has been used in food and wine since antiquity. Sulfur is naturally present on the grape skins. SO2 is also added periodically throughout the winemaking process and plays a critical role in quality winemaking. Sulfur serves two main purposes. It prevents the wine from reacting with oxygen which can cause browning and off-odors (oxidation), and it inhibits the growth of bacteria and undesirable wild yeasts in the grape juice and wine.
However, SO2 is to be avoided in the final product, since a small percentage of the population is allergic to sulfur dioxide. Winemakers are required by law to limit the levels of SO2 in the final wine. Steam distillation with titration is the preferred method for determining SO2 in wine as described by both OIV and AOAC.Kjeldahl Distillation units can be used for determining SO2.
OPSIS LiquidLINE can provide solutions for winemakers and determination of Alcohol, SO2 and Volatile Acids. Contact us to learn more about our Kjeldahl instruments.
Learn more about determination of protein >>